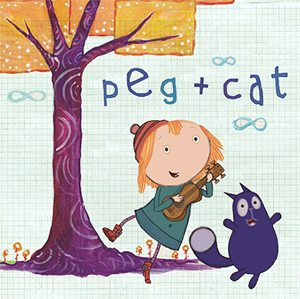 Peg + Cat, the animated PBS KIDS preschool series from The Fred Rogers Company, follows the spirited Peg and her sidekick, Cat, as they embark on adventures, solve problems, and learn foundational math concepts and skills. In each episode, Peg, Cat, and their friends work together to overcome a challenge using their trusty math and problem-solving abilities. The series provides young viewers with a fresh new way to experience the key math skills needed to navigate everyday life. And since Peg doesn't always get it right the first time, preschoolers also learn the value of learning from mistakes.
Since it premiered in 2013, Peg + Cat has attracted a large and growing audience across both broadcast and digital platforms, incorporating a perfect combination of "girl-power" and "brain-power." Peg, the show's star, was recognized by Common Sense Media as one of TV's Best Role Models of 2014. She also has been widely praised as a great S.T.E.M. (Science, Technology, Engineering and Math) role model for girls. Among its many honors and accolades, Peg + Cat has won six Emmy® Awards including Outstanding Animated Preschool Series, four Parents' Choice Gold Awards, and five Kidscreen Awards. Research by the Education Development Center and SRI International has also found that Peg + Cat helps children learn math while improving family attitudes toward the subject.
Watch Peg + Cat weekdays on PBS stations nationwide and daily on the PBS KIDS 24/7 Channel. Find interactive games, digital storybooks, and more at pbskids.org/peg.
Peg + Cat is co-created and executive produced by Jennifer Oxley (Little Bill, The Wonder Pets!) and Billy Aronson (Rent, Postcards from Buster) and produced by The Fred Rogers Company for PBS KIDS.